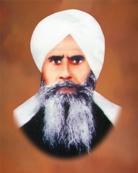 Baba Deva Singh Ji was born on September 25, 1885 in village Tut Dhahewala in district Lahore. This place is currently in tehsil Patti, district Amritsar, Punjab, India. His father, Sardar Boorh Singh Ji Chahel, was a Landlord and his mother's name was Sardarni Nand Kaur Ji.

Baba Deva Singh Ji had a keen interest in spirituality from his childhood. In his heart, he had a deep desire to meet God. While still being very young, he abandoned his home and went out in search of a Guru, possessing nothing more than the clothes he was wearing.

He visited several sages and at last met with a Nirmala sage who guided him to Baba Bagga Singh ji – The Perfect Master, he was searching for. At the age of fourteen, Deva Singh Ji was blessed with Naam (initiation) by Baba Bagga Singh Ji.

After Baba Bagga Singh Ji left his mortal body, Baba Deva Singh Ji presided as the Satguru at Radha Soami Dera Baba Bagga Singh,Tarn Taran. Baba Sawan Singh Ji Maharaj of Dera Beas performed the auspicious ceremony and applied tilak to Baba Deva Singh Ji with his own hands. Baba Deva Singh Ji was blessed abundantly with the grace and affection of his Satguru, Baba Bagga Singh Ji, Baba Jaimal Singh Ji, Maharaj Sawan Singh Ji, Baba Garib Das Ji, and Chacha Ji Maharaj of Agra. He provided spiritual guidance to the Sangat for about fifteen and a half years, and blessed numerous souls with the Holy Gift of Naam.