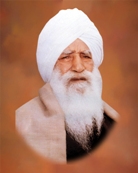 The third Sant Satguru of Radha Soami Dera Baba Bahha Singh, Tarn Taran was Baba Partap Singh Ji. He was born on December 29th, 1900. His father, Sardar Jodh Singh Ji was a farmer in the village Chandian Talanwan, Lyallpur (now a district of Pakistan). His mother's name was Sardarni Jawal Kaur Ji.

In the region of Lyallpur, Sardar Jodh Singh was the first to be blessed with Nam by Baba Bagga Singh Ji. In this way, Baba Partap Singh Ji's love for Sant Mat (Teachings of the Saints) was a heritage. From his very childhood, he was spiritually inclined and deeply interested in reading holy books. Baba Partap Singh Ji exhibited deep attachment to Satsang from early childhood, and was extremely devoted to the Guru, sewa and love for the Dera. He was initiated at 10 years of age by Baba Bagga Singh Ji on May 17, 1910.

On 8th Nov 1961, he was appointed as Satguru by Maharaj Charan Singh ji (the fourth Satguru of Dera Beas). He started initiation in 1964. In his Satsangs, he would always lay great stress that the foundation of spiritual life was building high character.

He had such a rich and enormous treasure of love, that whenever any miserable or unhappy person approached him, they never left empty handed. He gave abundant hope and love, and blessed thousands of people with Naam. On 26th April 1988, Baba Partap Singh Ji left this perishable world and returned to his eternal abode.