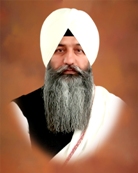 Baba Paramjit Singh ji was born on Sept 13, 1964 in village Nag Kalan, Distt. Amritsar. He was born to Sardar Sujan Singh Ji and Mata Joginder Kaur ji. Baba Paramjit Singh ji is the initiate of Baba Partap Singh Ji and is the fifth Satguru of Radha Soami Dera Baba Bagga Singh Tarn Taran.

After Baba Kehar Singh ji left this world, Baba Paramjit Singh ji was selected the next Sant Satguru according to the 'Will' of Baba Kehar Singh ji. The managing committee of Dera Baba Bagga Singh, Tarn Taran performed the ceremony of "Guru Gaddi" on Jan 10, 2016.

Baba Paramjit Singh Ji has a strong religious bent since childhood. He has been living on his own earnings. He did his M.A. in Punjabi. Post completion of his studies, he started serving the Dera selflessly. With the blessings of Baba Kehar Singh Ji, he has served towards the immense growth and development of the Dera since 1981. He regularly conducts spiritual discourses in various parts of India and around the globe with the vision of benefitting humankind to lead a spiritually rewarding, healthy and harmonious life. The calendar of spiritual discourses for this year is available at Calendar's Page .